The STF/12 design is based on the use of several interchangeable modules to create an integrated pump shotguns platform, perfect in all conditions to accomplish diverse missions. It allows fast changes in size, barrels, magazine capacity, ensuring safe and confident handling! STF/12 is the ultimate shotgun for operating in all scenarios: STF/12 is a great choice for serious operators who appreciate its unbeatable precision combined with stability and large magazine capacity. FABARM is the only manufacturer to have agreed to a test protocol of 1630 BAR with the National C.I.P Proof House. STF/12 firearms covered by this exclusive test (the legal C.I.P. test allows for a pressure of only 1320 BAR) are delivered with a test certificate to 1630 BAR. Our clients' safety is our absolute priority.


DEEP DRILLING TECHNOLOGY

All STF/12 barrels are produced with deep drilling technology out of solid steel bars of nickel chrome molybdenum. This technology allows the molecular structure of the steel to remain intact during the manufacturing of the barrels. The barrels, thus having none of the tension inevitably generated by the process of cold forging, remain perfectly rectilinear during the phase of silver soldering the components of the barrel at temperatures of over 700 degrees. The advantage of this production process explains why there is today no pump shotgun with a such extreme accuracy level.
MUZZLE BREAK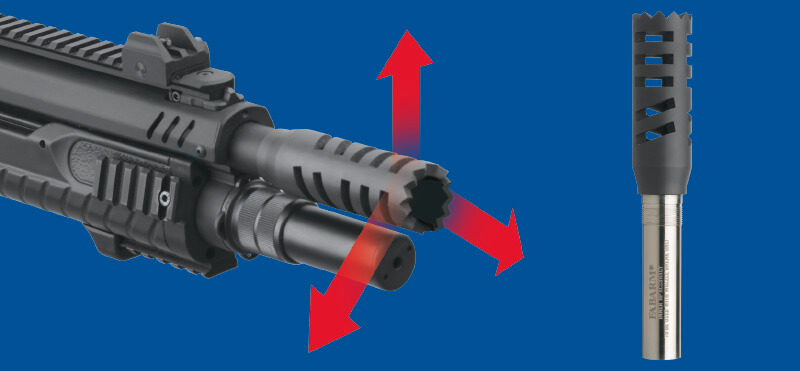 The muzzle break reduces the recoil by redirecting the escape path of powder gasses to three directions perpendicular to the STF/12 barrel. It allows the shooter to maintain an accurate site picture between shots.
ON TARGET
Removing the rail with the quick release pivot system, the shotgun is still equipped with efficient open sights, including an adjustable front sight and a flat rear sight.
SOFT TOUCH FINISH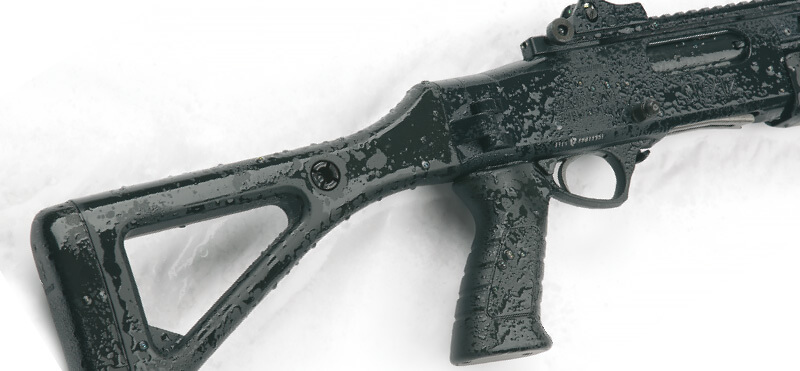 SOFT TOUCH is a unique stock and forend treatment to improve the grip in all weather conditions (rain, cold temperature). Once treated, a composite material feels almost velvety smooth and soft as a rubber coating. This coating also makes the composite less noisy, in addition to being extremely durable.


| | |
| --- | --- |
| GAUGE | 12ga - 3'' CHAMBERED |
| BARREL LENGTH | 11'' / 28 CM |
| BARREL FINISHING | BLACK NON GLARE |
| CHOKE TUBE | INNER HP ACCURACY (MOD) |
| COOLING JACKET | INCLUDED |
| COOLING JACKET FINISHING | FDE |
| STOCK | FIXED |
| LENGTH OF PULL | 12.6" / 320mm |
| STOCK FINISHING | FDE WITH SOFT TOUCH |
| FRAME | ERGAL 55 |
| FRAME FINISHING | FDE |
| SIGHTS | DETACHABLE GHOST AND FRONT SIGHTS |
| MUZZLE BREAK | INCLUDED |
| MIL-STD 1913 RAIL AT 12 O'CLOCK | INCLUDED |
| MIL-STD 1913 RAIL AT 6 O'CLOCK UNDER FOREND | INCLUDED |
| MIL-STD 1913 RAIL AT 3 O'CLOCK ON FOREND | OPTIONAL |
| MIL-STD 1913 RAIL AT 9 O'CLOCK ON FOREND | OPTIONAL |
| SLING SWIVELS PLATES | 2 POINTS A 9 O'CLOCK |
| plus 1 MAG TUBE EXTENSION | INCLUDED |
| plus 2 MAG TUBE EXTENSION | OPTIONAL |
| plus 3 MAG TUBE EXTENSION | OPTIONAL |
| PROOF TEST | 1630 BAR |
Please note: A valid PAL license will be required at checkout to purchase specific items according to Canadian firearms regulations.